Health and Wellness Program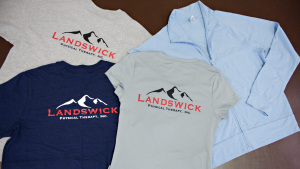 Landswick Physical Therapy, Inc. is happy to offer our patients a unique program to further benefit their overall health.
The Health and Wellness Program is designed to help transition patients from physical therapy exercise into functional training programs focusing on strength, endurance and stability of the entire body. The services are administered by certified athletic trainers who will help you to understand the possible limitations created by your injury. We will assist you towards moving pain-free as you transition out of physical therapy exercises into new, dynamic exercise routines.
Health and Wellness Classes offered
Senior Group Classes: Every Monday, Wednesday and Friday at 1:00-1:30pm. $5 per class
For more information please email us at healthinfo@landswickpt.com
Our new Landswick Physical Therapy t-shirts and sweaters are here!
Ask the front desk for pricing.